Dance, Diskopoodle, Dance! look below for linkies!
Here's my site, and there's stuff here.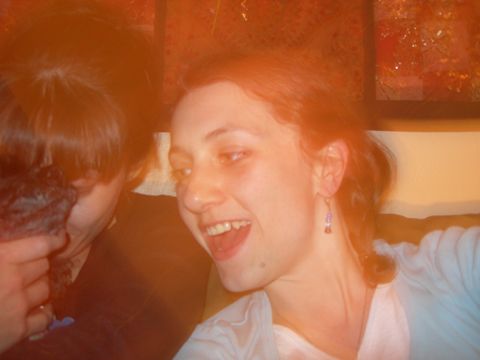 That's me. I'm singing "Afternoon Delight." My mouth is usually open, whether or not I'm drunkenly serenading dogs. I have a beauty mark, which does not necessarily make me beautiful...but it sure helps. This photograph also demonstrates evidence of my pointy, gap-toothed canines and hair that's finally getting long enough for pigtailettes. The babe behind the poodle snoot is the lovely Mardou, who appears to be whispering to Linus words of comfort to offset my caterwauling of '70s AM hits. Don't be fooled, she was singing, too. In fact, the whole thing was her idea. Check out the St. Louis Public Library Crawl, which is woefully unfinished for the timebeing. To what am I listening?
February 2006
Something by Nick Drake
Keep it Like a Secret, by Built to Spill
Various mixturonimos
Tank Girl soundtrack
Key Lime Pie, by Camper Van Beethoven
Random stuffs by Ben Folds Five (of course)
Staring at the Sea, by The Cure
Random stuffs found on iTunes

Week of April 20, 2003
elliot smith, either/or
Liz Phair, whip-smart
Ozer Senay et al, Turkish Bellydance
Belle and Sebastian, "Tigermilk"
Belle and Sebastian, "If you're feeling sinister"
Nourhan Sharif's Raqs Sharqui Vol. 1"
Prefab Sprout, "Two Wheels Good"
What am I reading?
Rio Grande Fall, by Rudolfo Anaya
Or Else Ganges, by Kevin Huizenga
Fair Weather, by Joe Matt
The Quitter, by Harvey Pekar (illo. by Dean Haspiel)
Paul has a Summer Job, by Michel Rabagliati
(this stuff wuz from 2003 but I haven't figured out how to put it all behind a cut yet)
Joffrey Ballet School, Ballet-Fit
Martha Graham biography
What am I watching?
OLYMPICS!
Every Kevin Smith movie 947639087 times
The 40 Year Old Virgin 2938579287 times
(ditto to the above)
Secretary
Spirited Away
Fifi Abdo Milaya choreography
Check back someday. This is just the beginning, and I'm a busy gal. There will be more eventually. Maybe I'll even update that part about what I'm listening to/watching/reading/et cetera...because it's really January 2006, and that stuff is so April 2003. Although, come to think of it, I've been listening to If you're feeling sinister all week long, and either/or is also in my car.
I keep trying to put up a link page, but for some reason it's not working. So here's a quick list o' links for your perusal until I get an actual page set up: Links I Like!
Jason Robards. My for-real husband.
Sarah Becan.My for-real husbands comics wife (just don't ask.)
Drew Crowley. My comics husband (If J-Ro gets a comics wife, I get a comics husband. It's only fair.)